Every month, we'll be featuring exceptional commercial AV dealers and showcasing one of their outstanding projects. First up, is Delcom Group – based in Lewisville Texas. Delcom Group was founded exactly 21 years ago and has since grown to be massively successful.
Executive Director, Sean Delph, describes Delcom as a "turnkey commercial AV and IT integration company, focused on end-users and cutting edge technology." Employees at Delcom embody the Pro AV mentality even in the most basic installations. The goal is to always provide thoughtful and future-proof solutions in the ever-changing landscape of commercial AV. Delcom's ability to anticipate future needs means they help clients find the right solution every time. Plus, their dedicated service department ensures quality and happy customers for years to come.
"The foundation of our success relies on building long-lasting relationships," explains Delph. "We strive to develop a consultative relationship with all customers, allowing us to choose the best technology solution for each and every project."
Recently, Delcom found the perfect solution in SAVI 3 and installed the control system in Trophy Park, a chic sports lounge with modern comfort food and cocktails, bowling lanes, game consoles, and live music.
"SAVI 3 employs a unique control system that is easy for bars, restaurants, and public facilities to use. Creator streamlines programming and makes it less of a burden for the integrator and end-user."
And what about Delcom's experience working with the SAVI team? "Working with SAVI was a positive experience because they are more than willing to help and to make sure their customer is happy – just like Delcom," says Delph.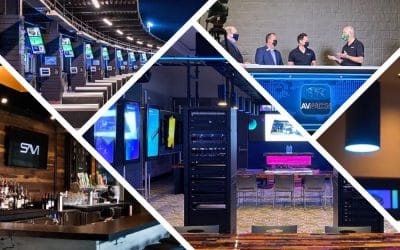 SAVI Controls 2021 Highlights As we entered 2021, the AV industry and the world itself, remained unsure of what post-pandemic life would look like. Although the world isn't back to its pre-pandemic state quite yet, SAVI still managed to conquer some amazing feats....
read more