AV Nation interviews SAVI, LG, and NETGEAR on recent partnership
SAVI partnered with LG in 2016 to integrate SAVI Canvas into LG's powerful webOS displays which enables companies to control, manage, and deliver content over a single network cable. SAVI runs completely over the network (AV over IP) to eliminate unnecessary equipment for AV distribution. This mission presented the perfect opportunity to form our recent partnership with NETGEAR. The newly SAVI Certified NETGEAR M4250 and M4300 switches provide an unmatched video distribution experience for customers and have been tailored specifically for pro-AV integrators.
The tri-force of SAVI, LG, and NETGEAR has not gone unnoticed. During an AV Nation interview at infoComm 2021 SAVI CTO, Derek Wilson, spoke alongside James Pfenning (LG) and John Henkel (NETGEAR). They discussed their strategic partnership with Advisist founder, Bradford Benn, and how their collaboration is setting a new standard in the world of commercial AV.
"We really wanted to join this partnership with NETGEAR so we could take that seamless integration and go beyond just displays in SAVI," Wilson said. "In this new age, everything is going towards a network-based platform, so we're extremely excited to further streamline AV over IP by working with NETGEAR."
In an outdoor theme park setting, Benn asked how LG could eliminate the pain point of controlling the monitors. Pfenning explained how the LG outdoor displays (XE4F-M series) utilize innovative technology to combat multiple pain points such as outdoor elements, vandalism, and cost efficiency. With an IP 56 rating, these displays are robust enough to stand through the hottest climates to the coldest temperatures while maintaining pristine quality without sunspots or rain damage. The indestructible screen makes it difficult for potential thieves to attempt to steal or damage the display. Paired with SAVI 3's SAVI CANVAS, video distribution, content delivery, and system management are all possible over a single CAT5 cable – meaning there's no box behind the display! Adding in NETGEAR's pro-AV series switches, the trio forms an unparalleled force in producing extremely powerful, yet cost-efficient, video distribution experiences.
And content distribution has never been simpler. NETGEAR seized the opportunity to to further streamline commercial AV integration and tailored their switch to meet the specific needs of AV techs to make their jobs quick and simple.
"The reason we call it an AV switch now is because there's an AV GUI," Henkel said. "You can walk up to it and find the right protocol for whatever you're doing. Whatever kind of AV over IP protocol you want to do, we have a configuration profile for that. You click on that, click on the ports you're using, save it, and you're done."
Like SAVI 3, NETGEAR switches were designed with power and simplicity in mind. Techs no longer need to read through long manuals or scour a web interface when the NETGEAR switch can perform every action with only a couple of taps, cutting configuration time in half. Data analytics are also easier to pull now that the collaboration can deploy features such as hardware flow control, IGMP Snooping, IGMP Querier, and AV-over-IP Multicast functionality.
Before NETGEAR came onboard, the SAVI and LG teams engaged in frequent collaboration to bring you the innovation you see in many commercial AV markets today. SAVI aimed to take this a step further by certifying the NETGEAR switches to ease the configuration process. Making a connection to a NETGEAR port sets up everything and organizes it all into location so the dealer knows exactly where each port is, saving loads of time when they can immediately pinpoint what they need.
"We not only want to make the integration easier and efficient for the installer, but we want to think about five years down the road when you have to troubleshoot something," Wilson said. "It's inevitable, it's going to happen, so we need to be able to go into our system and see exactly what ports are and what's located where to send that signal to displays, audio zones, and anything else."
Check out the full interview on AV Nation.
SAVI's partnerships with pro AV industry leaders, like LG and NETGEAR, are just the beginning in their journey to transform the world of commercial AV. Stay up to date with SAVI's latest endeavors on our blog or visit our YouTube channel for in-depth videos that will walk you through the SAVI system. Sign up for the two-day tech training class where you'll get acquainted with SAVI 3 and learn how to configure a stadium-sized venue in only hours.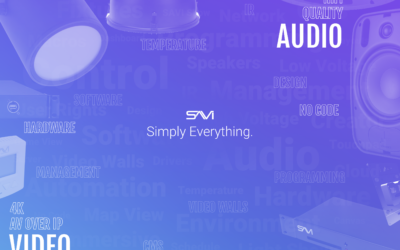 SAVI Ecosystem Expands to Offer Dealers One-Stop Access to Leading Commercial AV Solutions: Lighting, Audio, Video, Security, and Networking  LG, Sonance, NETGEAR, and Hanwha commercial products are now available in SAVI's online store. In addition to introducing its...
read more