Our CEO, John Dorsey, CTO, Derek Wilson, and Board Member, Eric Smith, sat down with Jason Knott, from CE Pro, to discuss the similarities between what Control4 did for the residential AV industry and what SAVI is doing for the commercial space or the resi-mercial space. The two aren't so different…read on to learn how!
CE Pro: Where does SAVI Controls fit into the growing resimercial trend in the industry?
John Dorsey: The genesis of SAVI was Diem Interiors (now called Diem Digital). We are a Dallas-based residential integration company and we got an opportunity to sell and install the first U.S. venue for Topgolf nine years ago. We used our residential knowledge to build SAVI as a solution based on Control4.
Today, SAVI is independent of Control4 and it's radically different than other products in the commercial market because we took a residential approach to a commercial solution. Also, Diem and SAVI are completely independent of each other. Control4 co-founder Eric Smith was part of the genesis of SAVI. Our approach to commercial was to really focus on simplicity. When we first started with Topgolf, we looked at all the big players in the market. Topgolf wanted something much simpler and much more cost-effective. SAVI originally was primarily a server product that was just software. We realized the commercial market needed not only a simple UI, but it was also missing hardware that was derived from simplicity. Today, as part of our SAVI 3.0 that we just launched you're going to see a lot of products designed from the ground up with
simplicity in mind.
Derek Wilson: The commercial market is a whole different ballgame; it's very intimidating. We're trying to tackle the resimercial space head-on and make it less intimidating because it really doesn't need to be. It's almost the same as residential, but with a lot more TV and audio zones. So are SAVI Controls' differentiators simplicity and affordability?
Dorsey: I would say simplicity first, then affordability second. Simplicity is about being able to get in and out of a job quickly with fast programming. Our Creator allows you to create projects in hours for what used to take days. It actually takes minutes to program an entire facility.
Which resimercial markets is SAVI best suited for?
Wilson: Bars, restaurants, corporate boardrooms are all markets we cover.
Dorsey: We are also in stadiums. We also shine in national chains like Pizza Hut. Because it's so simple to train someone how to use the system, it's ideal for a national company, especially a rollout where someone is going in and out of different locations. Everyone knows how to use the system because it is ubiquitous and simple across the board. Why would an integrator want to recreate a new UI every time? The UI is based on simplicity. Every aspect of SAVI is geared for simplicity, which is what Eric [Smith, advisory board member] did in the residential market with Control4. He is helping us navigate waters and the bumps in the road.
Eric, what attracted you to want to work with SAVI?
Eric Smith: I've always been intrigued by managing lots of displays all over buildings. When I came in and saw what John and Derek are doing, I saw tons of similarities with what Control4 did. Our whole approach at Control4 was to lower costs, change the simplicity of programming, and standardize the UI. One way we lowered costs was through tighter integration of products. As examples, our home theater controller launched with a $499 remote and an onscreen interface. You did screen. It connected directly to the light switches that we built so you didn't need a processor and other manufacturers' light switches. It took integration to a higher level that made things a lot less expensive and simpler. We also dramatically changed the simplicity of programming. You did not need to do a lot of programming and pay $400 an hour for coding. We eliminated that. We also leveraged the network. Since there was already an IP network going into every home, we believe it should be the base of the system. That was pretty controversial in 2003.
Today, in the commercial AV space, it is still kind of controversial to say you want the whole automation system to be on the IP network because IT managers usually own the network and they don't want the AV guys in their domain. SAVI is focusing on solving the cost problem, solving the complexity problem and leveraging the existing network rather than building big old video switches and doing things the old-fashioned way. So, SAVI feels extraordinarily similar to Control4 and I see it having the potential to disrupt the commercial space. SAVI has the same mantra Control4 had: 'You don't have to rebuild everything.' We don't have to do everything; we just need to do what most people need. We're not going to be everything to everybody; we're not going to be a system that can be customized to the nth degree. We're just going to do what is needed for 95% of the use cases. The UI is not customizable; you can change some stuff, but generally, you get what is there. For most people, that's all they need. They don't need something super fancy.
When we started Control4, all the large custom integration companies took a wait-and-see approach. Diem Interiors was one of the first dealers to pick up Control4 because they were new to the industry. Over time, they started winning a lot of jobs. All over the country, Control4 dealers started winning jobs over the bigger, more established guys. The situation is similar today with SAVI, so dealers should not wait to take a look before they see other dealers stealing jobs away from them and getting business they could have had. Any residential dealer who is looking at the resimercial market should not wait.
Do you have an authorized dealer program or a specific training requirement to be a SAVI integrator?
Dorsey: We have a virtual two-day training class that covers everything. We are thinking of making it even less than two days.
Wilson: We're hoping that when people see the simplicity, it spreads throughout a whole integration company's organization. The system takes the pressure off of two or three developers within an organization and allows a dealer to spread the work throughout the whole installation team.
What about tech support?
Dorsey: Our tech support is two shifts now and then on-call for a third shift because we are doing some international business. It will eventually be three shifts. We have a 15-person support team.
Where is the resimercial market heading during COVID-19?
Dorsey: Right now, we have five different national companies that want to do rollouts of SAVI next year in their facilities, hotels, and other vertical markets. We will share those opportunities with SAVI dealers.
Where is the resimercial market heading post COVID-19?
Wilson: Everybody is in prep mode right now, ready to hit the market heavy after COVID-19.
 Dorsey: I think people have internalized things and they will only want to touch their device. We have redesigned our office for that purpose. I also think more people will work remotely. These changes are going to be in place for at least for a couple of years because people's behavior has changed. Offices will have more enclosed spaces and huddle rooms will have one person in them now. Cubicle dividers will be part of the new office again.
Smith: I believe we will go back to having stand-up desks and doing things in person eventually. Productivity is definitely starting to take a hit with remote work, especially in creative fields and engineering where in-person contact matters. I think we will see a move back to that, but I think we will see a trend of smaller meeting rooms, rather than giant meeting rooms. An integration company will have a giant opportunity to outfit those rooms with right technologies so the teams can work closely together and even bridge to other rooms. I don't think meeting in person is going away; there is no substitution for face-to-face collaboration, especially on any kind of creative work for being together with people and figuring things out.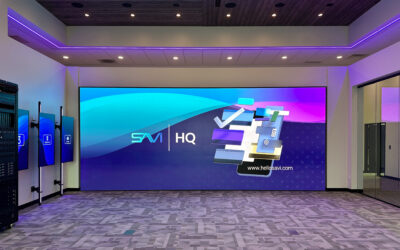 SAVI Opens State-of-the-Art Headquarters to Redefine Commercial AV Experiences Reinforcing its commitment to dealers and partners, SAVI unveils a new HQ with an immersive experience center showcasing their solutions like never before. Dallas, TX – November 13, 2023 –...
read more