SAVI and LG Join Forces to Bring Revolutionary AV Solution to Bars and Restaurants
Showcased at Bar & Restaurant Expo, SAVI Canvas and LG webOS™ deliver innovative guest experiences for a fraction of the time and cost
LAS VEGAS, NEVADA, UNITED STATES, March 17, 2022 — SAVI Controls, designer and manufacturer of commercial AV control and automation systems, is working with commercial display innovator LG Business Solutions USA to exhibit the power of SAVI Canvas on LG webOS displays during the 2022 Bar & Restaurant Expo, March 21-23, at the Las Vegas Convention Center. The Bar and Restaurant Expo features an interactive exhibit hall, trend-setting technology, and revolutionary products for the industry. On display in booth #927, the SAVI solution with LG provides businesses and their customers with an unparalleled video distribution experience while reducing system cost, cabling and complexity.
"SAVI Canvas and LG's webOS smart platform enable bars and restaurants to leverage their displays for more than just TV. With SAVI and LG, you can now control, manage and deliver custom content to each display via a single network cable, creating one-of-a-kind, cost-efficient solutions," said SAVI CEO John Dorsey.
"A Certified webOS Partner since 2017, SAVI is known for their groundbreaking technology and their commitment to a superb customer experience," explained LG Account Manager Dave Boerlin. "The webOS and Canvas solution gives business owners intuitive tools to deliver innovative guest experiences with excellent graphics, functionality and reliability. The best part? All of these features come standard."
Accessible from any device with a modern web browser, SAVI Canvas offers built-in video walls, tiling, and flexible layouts for content like live TV, video, menus, ads, specials, announcements, custom graphics, and more – all without the added expense of a complicated digital signage solution. Additionally, SAVI requires virtually no employee training, saving business owners even more time and money.
Event attendees can enjoy 50% off an Expo Pass by registering with VIP code: 10400 or by visiting www.BRExpoRegistration.com.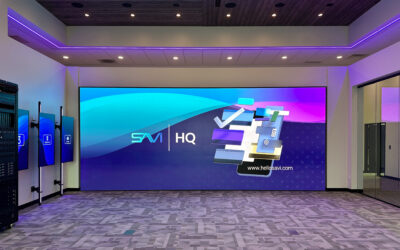 SAVI Opens State-of-the-Art Headquarters to Redefine Commercial AV Experiences Reinforcing its commitment to dealers and partners, SAVI unveils a new HQ with an immersive experience center showcasing their solutions like never before. Dallas, TX – November 13, 2023 –...
read more