Former Control4 Senior Director joins commercial AV control and automation innovator
Dallas, TX – January 26, 2021 – Today, SAVI Controls, designer and manufacturer of commercial AV control and automation solutions, announces the addition of Ross Livingston as their new Senior Director of Product Management.
Ross joins SAVI with over two decades of experience in all facets of tech industry management and product innovation.  Prior to SAVI, Ross managed core operating systems, remote controls, and AV products when he served as Senior Director of Product Management at Control4, the company that revolutionized the residential automation industry. Now, Ross is positioned to help SAVI do the same for commercial AV.
"We're beyond excited to welcome Ross as Senior Director of Product Management. Ross possesses a keen sense of our industry's evolution, climate, and emerging trends," said SAVI CTO, Derek Wilson. "With Ross at the helm of our product management team, SAVI is now able to design and deliver revolutionary simple programming tools in record time. And that's something our entire team is exceptionally passionate about."
"Once I heard the news that my former Control4 colleagues, Eric Smith and Susan Cashen, had joined SAVI's Board of Directors, my interest and curiosity officially piqued. Then when I got the opportunity to experience SAVI technology firsthand, it was an easy decision to join the team," said Ross Livingston. "With the recent release of SAVI 3, the future is very bright for the company, and I am proud to have the chance to help shape it."
SAVI is dramatically reducing the time and cost associated with installation and programming while bringing the fun back to commercial AV. Available now to all SAVI-Certified Dealers, SAVI 3 streamlines installation, programming, and expense with simple commercial av programming tools, intuitive end-user software to manage the system onsite, an easy-to-use control user interface, and a whole new line of commercial av hardware. Those interested in becoming a SAVI Dealer may sign up for a quick 2-day, immersive virtual AV tech training session.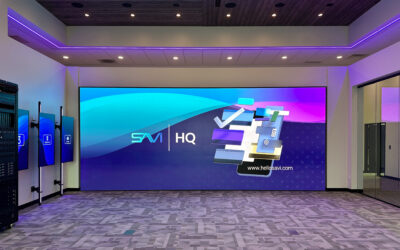 SAVI Opens State-of-the-Art Headquarters to Redefine Commercial AV Experiences Reinforcing its commitment to dealers and partners, SAVI unveils a new HQ with an immersive experience center showcasing their solutions like never before. Dallas, TX – November 13, 2023 –...
read more