Please excuse us while we state the obvious one last time – 2020 has truly been one for the books – textbooks that is. Our health and wellbeing, in addition to almost every aspect of our everyday lives, has been turned upside down. Businesses of every size and in every industry have suffered, forcing them to pivot to keep customers and employees safe while staying afloat. And as if that wasn't enough, 2020 has also given us new fun terms like "Murder Hornets." Seriously, what gives?
I think we can all agree 2020 hasn't been our finest year, but the good news is – it's almost over. The world may never be the same, but there's a light at the end of the tunnel. And hey, it hasn't ALL been bad. Pet adoptions and foster homes were way up this year! Drive-in movies made a comeback! The SpaceX inaugural operational mission launch took three astronauts into space!
Here at SAVI, we know it's important to acknowledge the good things along with the bad. So here is our official SAVI Controls 2020 recap, our silver linings if you will. 2020 has been rough, but through it all, navigating these unchartered waters brought us closer as a team, and looking back, we've accomplished quite a bit!
Please enjoy our 2020 silver linings – we'd love to hear yours!
January – SAVI Technology Officer, Paul Zielie Awarded SCN 2020 Hall of Fame Honor
March – We moved into our shiny new offices and training room, decked out in all things LG, of course.
May – SAVI + LG + Topgolf named as AVIXA Award Finalist for best In-Person Experience! We lost. To NASA.
May – Former Control4 SVP of Marketing, Susan Cashen, joins SAVI Board of Directors
June – IC20 exclusive panel discussion featuring guests from Topgolf and LG highlighting our partnership and the future of commercial AV
August – SAVI.Connect Our take on the meaning of 'pivot', featuring an exclusive, all-day virtual product launch! One of the most successful virtual events if we do say so ourselves
September – SAVI CTO Derek Wilson Receives Coveted 40 Under 40 Honor from Commercial Integrator
September – Control4 Co-founder Eric Smith joins SAVI Board of Directors
November – SAVI + LG + Topgolf Wins ALSD Spotlight Award for best "AV Enhancement or Experience"
November – SAVI 3 Tech Training – Learn everything you need to know in just 2 days of immersive virtual learning!!
December – SAVI Controls Partnership with LG Secures Top Commercial AV Honors
December – The SAVI Innovators Club, recognizing integrator excellence, ingenuity, and commitment to revolutionary technology was established. Want in?
That's it for the SAVI Controls 2020 Recap – we can't wait to see what 2021 has in store for us and the AV automation industry!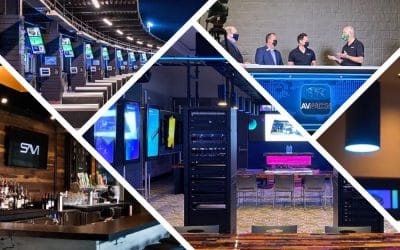 SAVI Controls 2021 Highlights As we entered 2021, the AV industry and the world itself, remained unsure of what post-pandemic life would look like. Although the world isn't back to its pre-pandemic state quite yet, SAVI still managed to conquer some amazing feats....
read more