rAVe Pubs interviews SAVI CTO Derek Wilson
During InfoComm 21, rAVe Pubs paid a visit to the real star of the show: the SAVI meeting room. Derek Wilson, our CTO who we all know and love, spoke with rAVe co-founder and director, Gary Kayye and provided a quick walk-though of the SAVI system and explained how SAVI is making big waves in the world of commercial AV.
While other commercial AV manufacturers focus solely on the control aspect, SAVI 3 is designed to enable powerful programming, control and automation with a simple, intuitive, and consistent configuration interface.
"We're doing a complete solution from end to end," Wilson said. "From video distribution to audio distribution, to displays – the whole thing." The difference is that the SAVI interface is consistent across device, location, and project. The sleek and intuitive UI makes it easy for an integrator to deploy thousands of displays and configure an entire venue in minutes to hours, and simple for tech managers to control their whole system with a few taps.
In SAVI 3's Facility View, Wilson walks rAVe through SAVI Canvas, noting the locations on the left, the endpoints in the center, and the sources on the right. While in Map View, users can click on any endpoint and preview the source (whether it's video or audio) right from their device.
Walking Kayye through SAVI Show, Wilson demonstrates how easy it is to upload custom content, choose how to present the content by altering the layout of the display or video wall, and deliver that content to the display in seconds.
"Basically, what you're looking at here is an entertainment control center, for example in this case, a restaurant, that's also a digital signage control system, that is also a whole-house audio and video system," Kayye confirms.
When developing SAVI 3, "We took a different approach," Wilson said, "We actually interviewed bartenders, managers, CEOs, FMs, things that use the control. We design our platform with them in mind, and then we make it efficient and fast for the dealer to actually configure the whole thing."
Next, Wilson highlights Canvas Dashboard which provides an at a-glance status of all displays for easy remote management, support, and troubleshooting. SAVI was engineered to show you exactly what is on every single device, including all the metadata, all the content, and all the screen captures. If an issue ever arises, it is immediately reported and the system will send an email with those details including the MAC address and the serial number – details you'd typically only be able to find when looking at the back of the specific device. The SAVI system pulls each kernel of information from every device onto the interface making remote support accessible and efficient.
"A lot of people can get the install right but supporting it five years down the road is where it really counts, and we take that very seriously," Wilson said.
Check out the full interview at rAVe Pubs.
Want to learn more about what you just read? Sign up for our two-day virtual tech training class where you'll learn everything there is to know about SAVI 3 and how to configure a venue of any size in mere hours. Visit our blog to read more about SAVI at InfoComm 2021 and check out our YouTube channel to watch SAVI in action.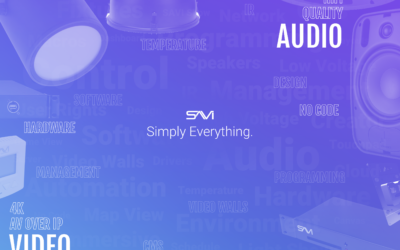 SAVI Ecosystem Expands to Offer Dealers One-Stop Access to Leading Commercial AV Solutions: Lighting, Audio, Video, Security, and Networking  LG, Sonance, NETGEAR, and Hanwha commercial products are now available in SAVI's online store. In addition to introducing its...
read more