SAVI Ecosystem Expands to Offer Dealers One-Stop Access to Leading Commercial AV Solutions: Lighting, Audio, Video, Security, and Networking 
LG, Sonance, NETGEAR, and Hanwha commercial products are now available in SAVI's online store.
In addition to introducing its new commercial lighting offering QoraLux at InfoComm SAVI, designer and manufacturer of commercial AV control, automation, and management solutions, today announces the availability of several strategic partner products on its online store to complement its branded offering of automation and control, audio, and video distribution solutions. Committed to enabling dealers to design and install expansive commercial projects leveraging the magic of the SAVI 3 OS, SAVI has partnered with industry-leading brands LG Electronics, Sonance, NETGEAR, and Hanwha, to offer their products in its new online store:  www.shop.hellosavi.com.
SAVI was founded as a software solution – launching publicly at InfoComm back in 2016 — with the vision to dramatically improve the AV install and control experience with a highly reliable, full-scale AV control and automation solution. Designed to support projects of any size or scope, SAVI is so user-friendly, every customer can intuitively use and manage it.  Since that time, the company has developed hardware solutions engineered to likewise, deliver unmatched simplicity in design, programming, and installation across audio, video, and lighting applications.
"We've come a long way since the launch of SAVI. Our OS, SAVI 3, is game-changing and the heartbeat of all we deliver, but we recognized we needed to provide dealers with all the gear that customers require to allow them to truly capitalize on the power of our software platform.  We couldn't do it alone, which is why we've embraced a strategic partner model, working with the industry's best to enable dealers to sell bigger projects leveraging SAVI 3," said John Dorsey, SAVI CEO.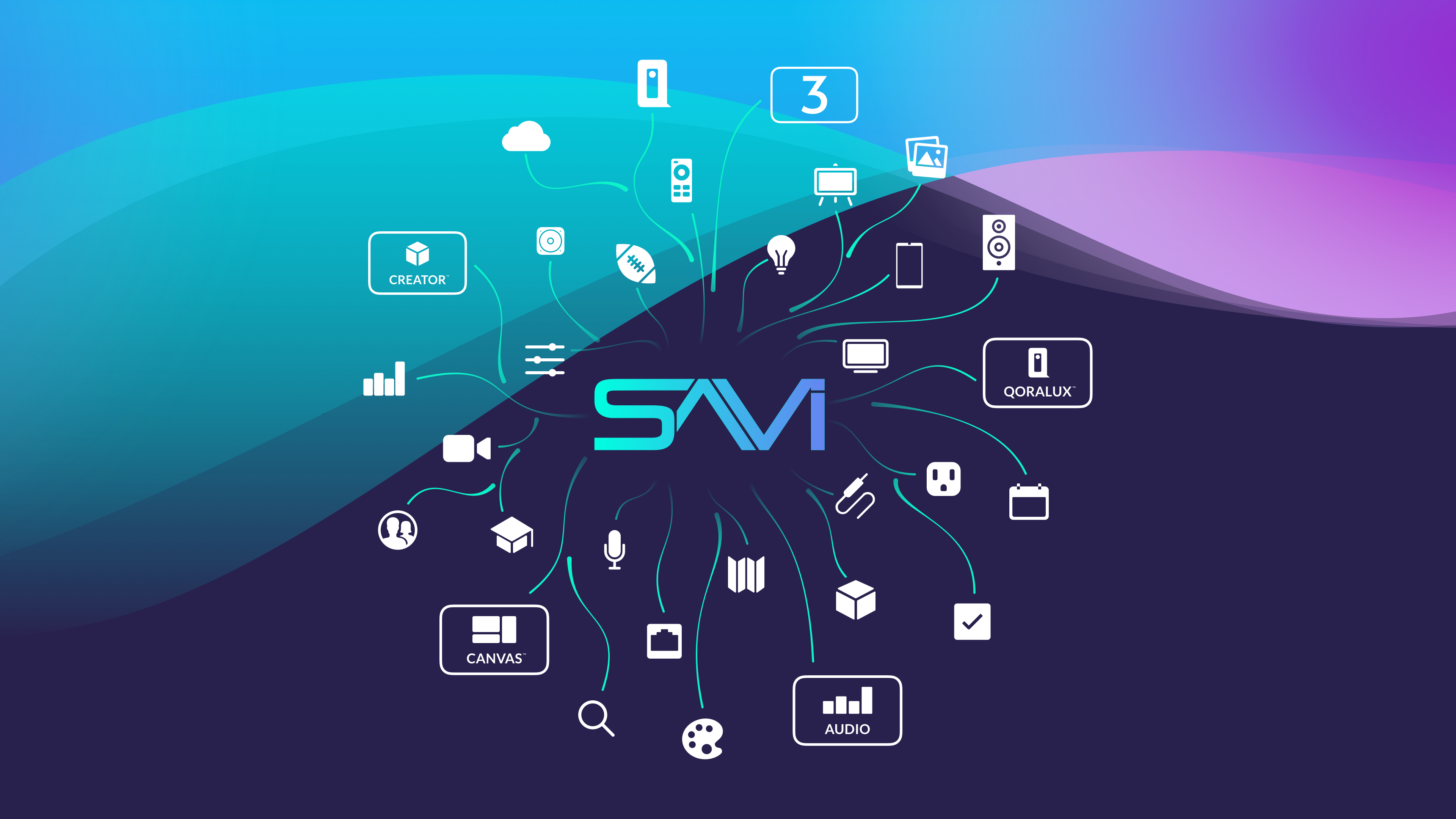 The SAVI Ecosystem
The SAVI ecosystem is ever-growing and features a full line-up of commercial audio and speaker solutions, displays, video distribution gear, digital signage solutions, interfaces for easy end-user control, cameras, thermostats, networking gear and accessory necessities.
SAVI dealers can now include a broad array of SAVI branded and SAVI partner projects in a singular bid.  All products are available to order in the SAVI online store. 
SAVI Control and Automation – SAVI 3 is a comprehensive AV control, management, and automation solution that streamlines installation, simplifies programming, and reduces expense across commercial projects of any size. With powerful hardware that can support thousands of endpoints and simplified programming software that takes hours, not days to program, SAVI 3 requires virtually no end-user training and delivers world-class experiences in a fraction of the time and cost.
SAVI Audio – The SAVI Audio line, featuring ICEpower® amplification modules, brings unmatched HiFi quality sound to commercial installations. With SAVI Audio integrators of all skill levels can design, program, and install rich and complex audio experiences at a fraction of the time and cost.
SAVI Video Distribution – SAVI simplifies system design, cabling, and integration delivering next-generation AVoIP video distribution with solutions for H.264 or H.265 encoding – all via a single network cable to each display. Supporting both unicast and multicast, SAVI synchronizes sources over multiple displays to create a unified viewing experience while removing the complexity of video wall installation and support.
SAVI QoraLux Lighting Systems – QoraLux features both high and low-voltage solutions that enable dealers to transform environments with dramatic, efficient, and easy-to-install lighting systems. Featuring switches, dimmers, keypads, fixtures, and more, QoraLux eliminates complicated project specification, time-intensive programming, and cumbersome installation, significantly increasing profitability across projects of any size.
LG Business Solutions USA – SAVI Canvas and LG webOS Signage create a one-of-a-kind, cost-effective solution for control, management, source switching, and content delivery with built-in features for video walls, tiling, ad space, and more – all without the cost of a complicated digital signage system. A wide range of LG webOS-enabled commercial displays are available through SAVI, from indoor and outdoor ultra-HD solutions to All-in-One DVLEDs and custom video walls.
Sonance Professional Series: With the full line of Professional Series speakers and subwoofers now available through SAVI, integrators have access to pro-quality audio with modern aesthetics, enhanced sonic performance, and simplified integration across all form factors. Available in in-ceiling, pendant, and surface mount speakers, as well as multiple subwoofer options, Sonance Professional Series.
NETGEAR Seamless network integration is critical for AV-over-IP installations, and the SAVI Certified NETGEAR M4250 and M4300 managed switches are ideal for SAVI Canvas and LG webOS deployments. Utilizing features like AV-over-IP Multicast functionality, Hardware Flow Control, IGMP Snooping, IGMP Querier, and either Layer 2 or Layer 3 switching options, SAVI and NETGEAR provide customers with an unparalleled video distribution experience while reducing system cost, cabling, and networking complexity.
Hanwha Cameras  Security plays a dominant role in every commercial projects.  Engineered to outfit installations of any size and scope,  Hanwha's budget-friendly Series X security camera line which includes POE, indoor/outdoor, dome bullet, and auto focus models, its Enterprise NVR line and Cloud Accessible Security recording software, Wisenet WAVE,  will be available on the SAVI store in July. 
InfoComm attendees can experience the SAVI Ecosystem in booth 1173.  QoraLux products will be available to order in July.  To find a SAVI Dealer near you or to become a Certified SAVI 3 Dealer, please visit www.hellosavi.com.