What's going on with InfoComm?
Register for a free hall pass with our VIP Code SAV556
The cancellation of InfoComm 2020 was disheartening for everyone in the AV community. Face-to-face networking, in-person demos, and the ability to physically attend keynotes and presentations wasn't possible due to the pandemic. Luckily, Audiovisual and Integrated Experience Association (AVIXA) hosted its first virtual show, InfoComm 2020 Connected, where event goers and AV manufacturers could participate in the same content, only virtually. This virtual event was a massive success and showed the true resilience of the AV industry, but it simply wasn't the same. And while InfoComm is back for 2021, it's fair to say that things will still look a little different…
BUT, the show must go on
Although the pandemic was hard on the industry, forcing many companies into a hibernation period, it also acted as an incredible catalyst for change. AV manufacturers, like SAVI, took advantage of this newfound time to develop revolutionary products that will give competitors a run for their money. As the world tries to heal, many are eager to reveal the new audiovisual products that will shake up the industry and this year's InfoComm is the perfect opportunity to experience this heightened level of innovation.
Still on the fence? Here are 6 reasons why you should go to InfoComm
1. Get your next project designed with a 1:1 session with one of the country's leading AV experts
Over the last few months, SAVI has worked hard to completely reimagine what it means to be an exhibitor an InfoComm. We've moved our on-floor booth to an off-floor meeting room and secured three private meeting rooms where you can sit down with our CTO, Derek Wilson, to design your system! This is a chance to visit our immersive booth where you'll be given an in-depth walkthrough of our entire ecosystem then head to your design session where you will learn how all the powerful tech you just saw will save you time and money on your next project!
2. Witness the reveal of SAVI's new product lines
As a completely objective, unbiased third-party observer, I can confidently tell you that you won't want to miss the new SAVI products debuting this year. Furthering our mission of simplifying the world of commercial AV, we are turning down the mind-numbing complexity and turning up the simplicity, power, and fun. We can't say too much yet but be on the lookout for some exciting announcements and be one of the first to experience the future of AV by visiting us in the off-floor room W203A.
3. You won't experience another audiovisual event like this
InfoComm is the leading commercial audiovisual trade show in the United States and is undoubtedly the event to attend if you're looking to explore the pro-AV industry and connect with other business professionals. InfoComm is a place where new deals happen, and exciting business ventures emerge. Not only do you experience the entire audiovisual solution universe from audio, video, digital signage, production, and streaming, but you get to see the future of AV from interactive display technology and mind-blowing virtual reality. Speaking of virtual reality… did ya'll happen to catch the new Matrix trailer? I digress…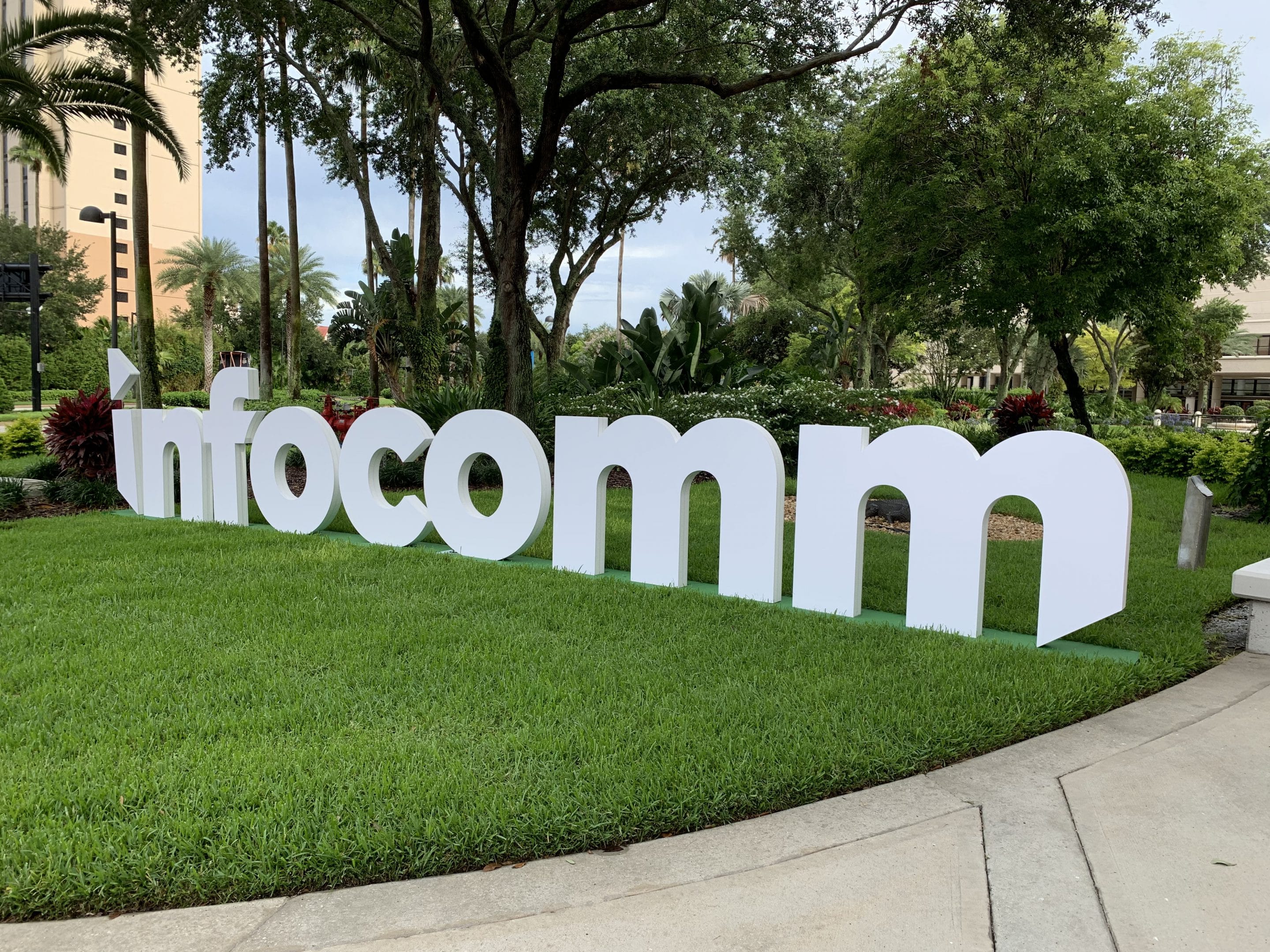 4. Stay Ahead of your competition and experience this innovation in-person
Sure, we all love scrolling through endless videos on YouTube, but there's nothing quite like experiencing really cool technology in person. Visit different booths and get your hands-on new products, see, feel and hear the innovation in real time. Exhibitors come from all over the world to highlight their new gear and give you the opportunity to play with it. Beyond meeting room and booth demos, InfoComm offers some of the best AV training in the world. Registration is available for three-day classes, workshops, and courses that are taught by AV experts, solutions providers, and manufacturers. Learn better strategies in integration and application or even prepare and pass your CTS exam.
5. Find your tribe and reconnect with your peers in the AV community
Connect with the pros, interact with higher education tech managers, and meet the young burgeoning professionals who are transforming the industry. At an event as large as InfoComm, forgoing new partnerships and networking has never been easier. From the opening reception on Tuesday night to specialized group meetings, there are plenty of networking events during the week where you'll get the chance to meet other audiovisual enthusiasts, industry experts, and simply have fun connecting with like-minded individuals.
6. Gain valuable insight from SAVI's Lead Tech Advisor and Control4 Co-Founder, Eric Smith
SAVI's lead technology strategist, Eric Smith, believes that SAVI is the next Control 4. Why's that?  It all boils down to following the footsteps of simplicity. Both SAVI and Control 4 are passionate about simplifying the installation and programing process, sharing the same mantra of knowing "You don't have to rebuild everything, every time."
"SAVI feels extraordinarily similar to Control4 and I see it having the potential to disrupt the commercial space like Control4 did for residential" – Eric Smith.
Join Eric in room W203A this year and learn why he knows SAVI is the future.
What else do I need to know about InfoComm 2021?
Location
Originally taking place on June 12-18, AVIXA moved the dates of InfoComm 2021 to October 23-29.  The event will be located at the Orange County Convention Center (OCCC) in Orlando, Florida. The floor plan of the convention center consists of three floors: The first floor is designated to meeting rooms, the second floor is the exhibit hall where all of the exhibitor booths are located, and the third floor is reserved for education sessions.
Health and Safety Requirements
AVIXA is doing everything in their power to keep everyone safe. 3,200 signs will be visible throughout the OCCC to remind eventgoers and exhibitors of the safety protocols. Regardless of their COVID-19 vaccination status, every individual who attends InfoComm (exhibitors, attendees, and vendors) is required to wear a mask. Masks are also required to be worn on shuttle buses that are sanitized throughout the day. Sanitation stations will be placed in all areas of high contact and signs throughout the convention center will encourage regular handwashing. To ensure social distancing, the convention center has designated one-way entry and exit doors to the exhibit floor and controlled occupancy in the education rooms.
InfoComm is enforcing advance registration online to make the registration contactless; you won't be able to register for the event onsite. All event participants are expected to sign a COVID Self-Declaration form and accept the InfoComm show policies to be allowed entry.
Where to find SAVI @ InfoComm
SAVI will be stationed at booth W203A. You can register here for a free exhibit hall pass with our VIP code – SAV556. Stop by our booth and learn about how we're making our mark on the AV industry with our pledge to simplicity. Not only will our products save you money and valuable time when installing, the sleek and straightforward system involves practically no training to program for those who are unfamiliar with AV installations.
Will you be joining us? Let us know here. We hope to see you there!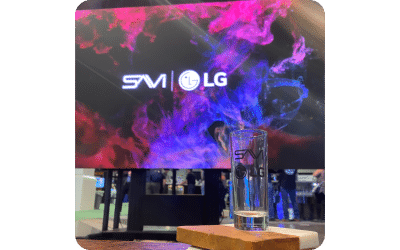 SAVI @ at Bar and Restaurant Expo highlights The SAVI team was back in action this past week at the 2022 Bar & Restaurant Expo in Las Vegas. Business owners, manufacturers, and lovers of food and drink flocked to the expo to experience the newest trends and...
read more