SAVI Controls' Derek Wilson a Best Tech Manager Finalist for Timmy Awards  
Tech in Motion announces top regional tech leaders for 2021 
Dallas, TX – September 20, 2021 – Tech in Motion announced Derek Wilson, Chief Technology Officer of SAVI Controls as a finalist for the Best Tech Manager category in the 7th annual Timmy Awards, which recognizes the top workplaces and people inside the North American tech industry. Demonstrating great leadership and positive influence, these managers like Derek lead their teams through unexpected territories and inspire performance and growth. Dallas's tech community can vote here until Sept. 27 to decide the Regional Winners, who will be judged in the national round by experts from companies like Paypal, Netflix and Oracle.  
"In an everchanging world, we value the unwavering commitment and agility from tech leaders like these, who help strengthen and motivate those around them professionally," says Mandy Walker, Executive Director of Marketing at Tech in Motion's creator, Motion Recruitment. "Through the Timmys, we are glad for the opportunity to recognize leaders in tech workplaces dedicated to empowering their teams."  
The selection criteria for the Best Tech Manager​ is based on the following: 
Promotes career growth ​and inspires innovation ​

 

Goes above and beyond to ensure a motivating, inclusive team culture​

Employs a clear and communicated vision to produce an innovative product ​

 
"Derek personifies what we are about at SAVI: innovation and fun. Over the years, I've had the privilege of watching him grow into a great leader who has helped this company become the force that it is today. "Derek fosters a trusting, supportive, and collaborative environment, that inspires the team's passion for creating ground-breaking technology in the AV industry," says John Dorsey, Founder and CEO of SAVI Controls.  
SAVI Controls is on a mission to radically improve the AV experience for customers and integrators by offering a simple commercial AV control system that takes hours, not weeks, to program. SAVI 3 is so easy to use, virtually no end-user training is required – saving integrators time and money on every installation. Say goodbye to boring and hello to SAVI.  
In addition to Best Tech Manager, you can also vote in four other Dallas Timmy Awards categories: Best Tech for Good, Best Tech Enterprise Employer, Best Tech Startup and Best Tech Work Culture. All regional award winners will be announced in early October and will go on to compete in the national categories. 
After the success of last year's virtual ceremony, the 2021 Timmy Awards ceremony on Thursday, Oct. 28 will once again be a completely digital experience. To vote, RSVP or learn more, visit the Timmys website. 
About Tech in Motion Events 
Tech in Motion is a North American events series that brings local tech community professionals together to connect, learn and innovate. What started as a passion project in 2011, by IT staffing and recruiting firm Motion Recruitment, grew into an organization of over 250,000 members across 14 chapters in North America including Atlanta, Boston, Charlotte, Chicago, Dallas, LA, New York, Orange County, Philadelphia, Phoenix, San Francisco, Silicon Valley, Toronto, and Washington, D.C. Please visit www.techinmotionevents.com for more information about our notable speakers, sponsors and events.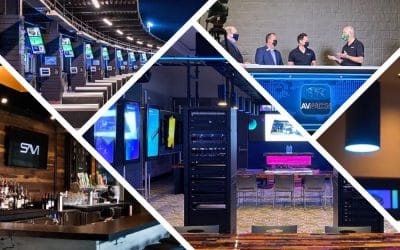 SAVI Controls 2021 Highlights As we entered 2021, the AV industry and the world itself, remained unsure of what post-pandemic life would look like. Although the world isn't back to its pre-pandemic state quite yet, SAVI still managed to conquer some amazing feats....
read more