To all our partners and friends who took the time to stop by the
SAVI | LG Experience
at InfoComm 2019, we cannot thank you enough. What an amazing show! The reception of
SAVI's roadmap to the future
and the feedback we received were beyond expectations. We are excited to take you all along for the ride as we continue to move forward on our journey to
uncomplicate the world of commercial AV
!
Here's a quick InfoComm 2019 highlight reel from the SAVI | LG Experience, and below is a recap of BIG things to come!
SAVI 3.0 and SAVI Creator
SAVI 3.0, along with our configuration tool SAVI Creator, will release in Q4 of this year. Until then, SAVI can be deployed using the current release versions 2.6 and soon to be available 2.7. There will be a no-cost upgrade path to 3.0 for all SAVI Server Pro units that are current on Annual Support and Maintenance.
New SAVI Hardware Products
AMP.One and DSP.One, along with our new H.264 HDIP product, STREAM.One, will release around the same time as SAVI 3.0. For recommendations on audio design best practices just drop us a line to discuss. We will get all of our new SAVI-branded products to market as quickly as possible.
If you're not already a SAVI Dealer, you may apply right here.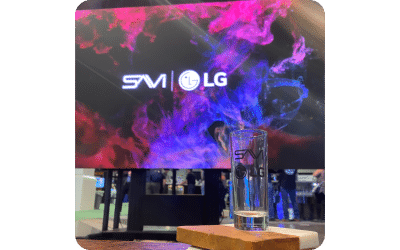 SAVI @ at Bar and Restaurant Expo highlights The SAVI team was back in action this past week at the 2022 Bar & Restaurant Expo in Las Vegas. Business owners, manufacturers, and lovers of food and drink flocked to the expo to experience the newest trends and...
read more