Audio quality is critical for an effective video conference
The hybrid workplace has become a standard for businesses across the country. In the beginning of the disaster known as 2020, there was a surge towards the adoption of video conferencing such as Zoom, Microsoft Teams, Webex, Skype, you name it. A glitchy video feed caused by poor Wi-Fi or a faulty platform is a common occurrence that is easily dismissed as long as the audio feed is still working. But if the audio feed is malfunctioning, a domino effect of problems could arise in the sequence of the inability to retain information, increased frustration, and a call that either gets dropped or goes overtime.
AV Magazine highlights conferencing audio and discusses the importance of high-quality audio that will ensure a successful conferencing meeting or hybrid learning experience. In Sound Advice, authors Cindy Davis and Macy O'Hearn dive into the responses from AV industry thought leaders who share their best practices for pristine audio.
How to ensure high-quality audio
Audio will make or break a video conference. A quality audio experience is critical for retaining information and keeping everyone's attention. Our training manager and audio guru, Peter Brewer, was featured in the article with his input on why clear audio is a must and how to ensure its longevity when in a video conference.
"There are many options out there for audio devices, but the most important thing is that the user is comfortable with the microphone setup," Brewer explains. "Headsets are a great option, as they ensure the microphone is always close to the presenter's mouth and the speakers are built into the headphones. This way the presenter can feel free to move about and not have to worry about whether they're facing the microphone or not."
Brewer is accustomed to the headset route, an efficient solution for instructing our SAVI 3 tech training class. In this 2-day class where the trainee learns how to configure the SAVI 3 system and install a stadium sized venue, clear audio quality is essential for their learning experience. The system is so simple to use that even novice installers can quickly learn it, but without a clear audio feed, information might get lost which will only result in confusion. Before each class, Brewer always makes sure to test his headset to make sure the quality is stable throughout the class.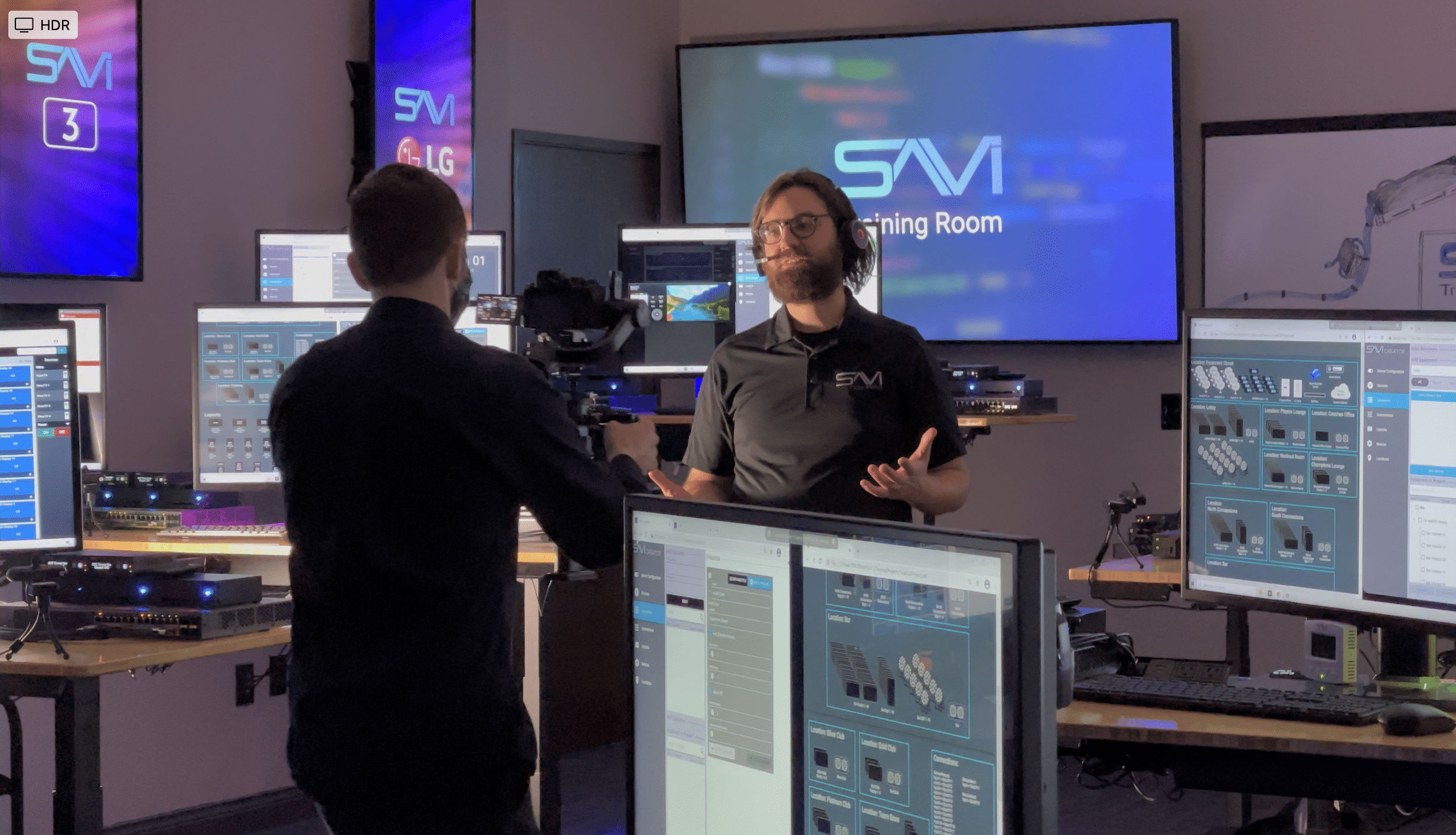 A presentation camera with a built-in microphone and speaker, according to Brewer, is another excellent choice. Generally set up at the end of a room, every voice in the room can be heard and seen, plus you only need to connect it to your PC with one cable to gain access to the camera, microphone, and speaker.
Acoustics are important
This is where acoustics come into play. "Room acoustics can have a huge impact on your sound quality," Brewer said. "If you're in a very large conference room, your voice might echo off the walls, ceiling, and floor. This can make your audio sound washed out and difficult to understand."
Brewer suggests combatting this dilemma with sound-dampening techniques such as carpet or acoustical tiles for the walls or the ceiling. You're not as prone to running into acoustical problems in small areas such as huddle rooms, but for large conference rooms these tactics are a lifesaver.
Audio solutions for the office
With the influx of hybrid work environments, soundbars are becoming popular solutions because they were designed specifically for conferencing with both speakers and microphones engineered inside. Companies have also begun installing pendant microphones, ceiling microphones, table microphones, and other types of integrated audio to guarantee great audio quality. Before you implement any of these solutions, you must consider the type of room you're in. For ceiling mics, an installer must consider the design of the room such as the perimeter of the room and ceiling height. Table mics are perfect for 360-degree audio pickup while providing access to volume controls and a mute button if needed.
Don't settle for poor audio quality over a conference call. Rich audio experiences are critical for maintaining people's attention and conducting an effective meeting. We live in a time where human interaction is tricky, so investing in a top-notch audio experience is crucial for replicating the natural human interaction that we all crave.
Become SAVI 3 certified
Want to learn more about our SAVI 3 Tech Training class? This 2-day class runs across a dedicated fiber backbone where the trainees will learn how to program a stadium sized venue with thousands of displays in hours as opposed to days. Trainees log on to one of 16 training stations equipped with a remote PC and a USB web camera that allows a global view of the student's personal SAVI gear, including the SAVI Server Pro, two SAVI STREAM.Ones, two firesticks, a DSP.One Demo Server, DMX LED fixture, SAVI thermostat, a network switch, and an LG webOS display. In addition, we have three additional stations where our training manager and two teaching assistants can provide one-on-one help. Sign up today to become SAVI 3 certified and revolutionize your audio visual experience!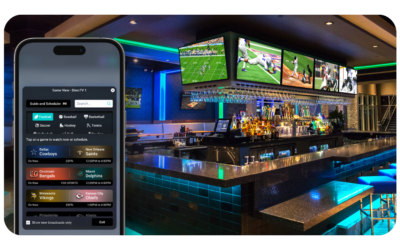 Latest software release is packed with new dealer and customer features to dramatically simplify programming and end-user management of commercial AV systems.  Dallas, TX – February 22, 2023 –SAVI Controls, designer and manufacturer of commercial AV control,...
read more