Getting to know Claire Bueter
As the Design Lead for SAVI, Claire works with the Design Director to establish the SAVI brand by curating sleek and original designs. Claire has a sharp eye for design reinforced by a strong background in graphic design. Some of her projects for SAVI include designing our brochure, creating content for SAVI demos and InfoComm, and creating demonstrations for potential clients. Claire has a sharp eye for design. If she's not in the office, you'll likely find her at home cooking or going out on the town with her friends. Claire, tell us more about yourself!
In your own words describe what you do at SAVI:
I work as a graphic designer in the creative department. I create graphics that help show off SAVI for demos, marketing, sales, and more.
Describe SAVI in 1 word:
Innovative! 
Favorite part of your job:
I love the creative freedom that comes from getting to work on so many different types of projects. Some days, I'm making technical diagrams of how SAVI works, and other days, I'm coming up with fake menu boards and specials for demo content. It really keeps everything fresh and exciting.
What's something that might surprise people about your job?
Design is problem solving. I think the designers in other areas of SAVI will understand this, but often when people hear "graphic design" they think it's just a matter of making things pretty, but it's actually analysis, synthesis, evaluation, and trial and error until you eventually arrive at a best fit solution that incorporates meaning and beauty to create something powerful.
What would you do (career) if you didn't work at SAVI?
Realistically, I would probably still be doing art and design of some sort, but if I could truly do anything regardless of my skill set or money, I would love to travel and be an influencer. I would be a terrible influencer, because I actually hate posting on social media, but I love travel and I think the lifestyle just looks like a dream.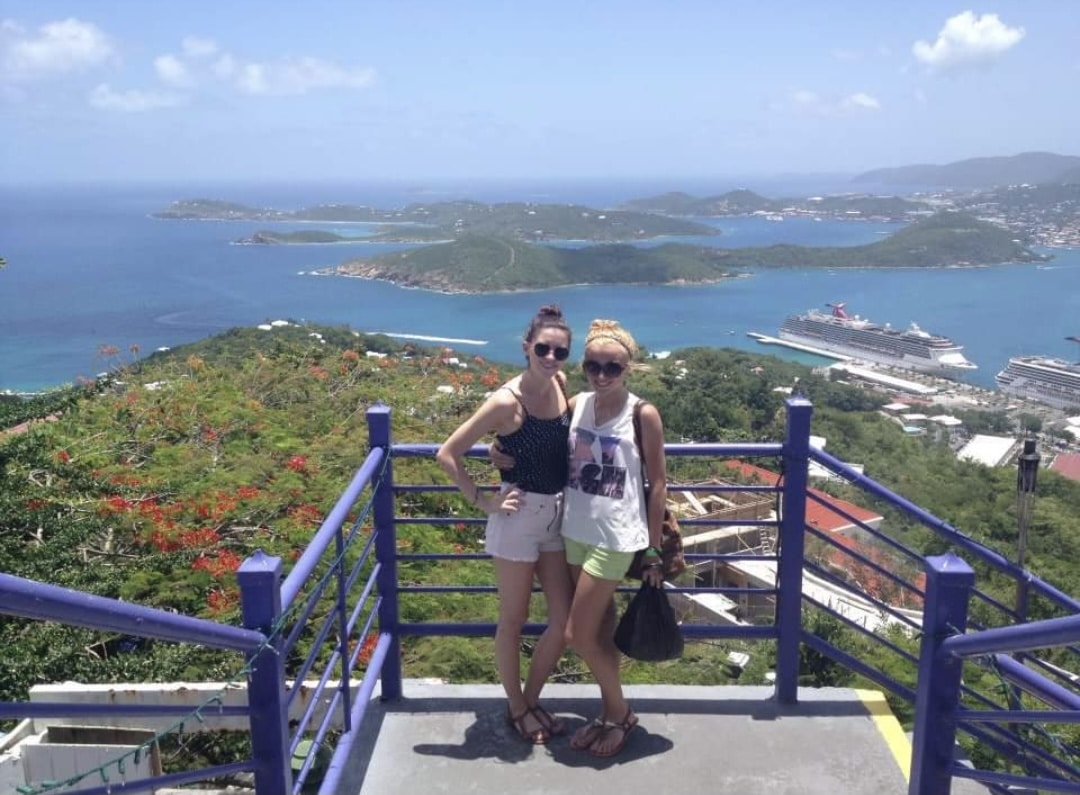 Claire in St. Thomas with her best friend.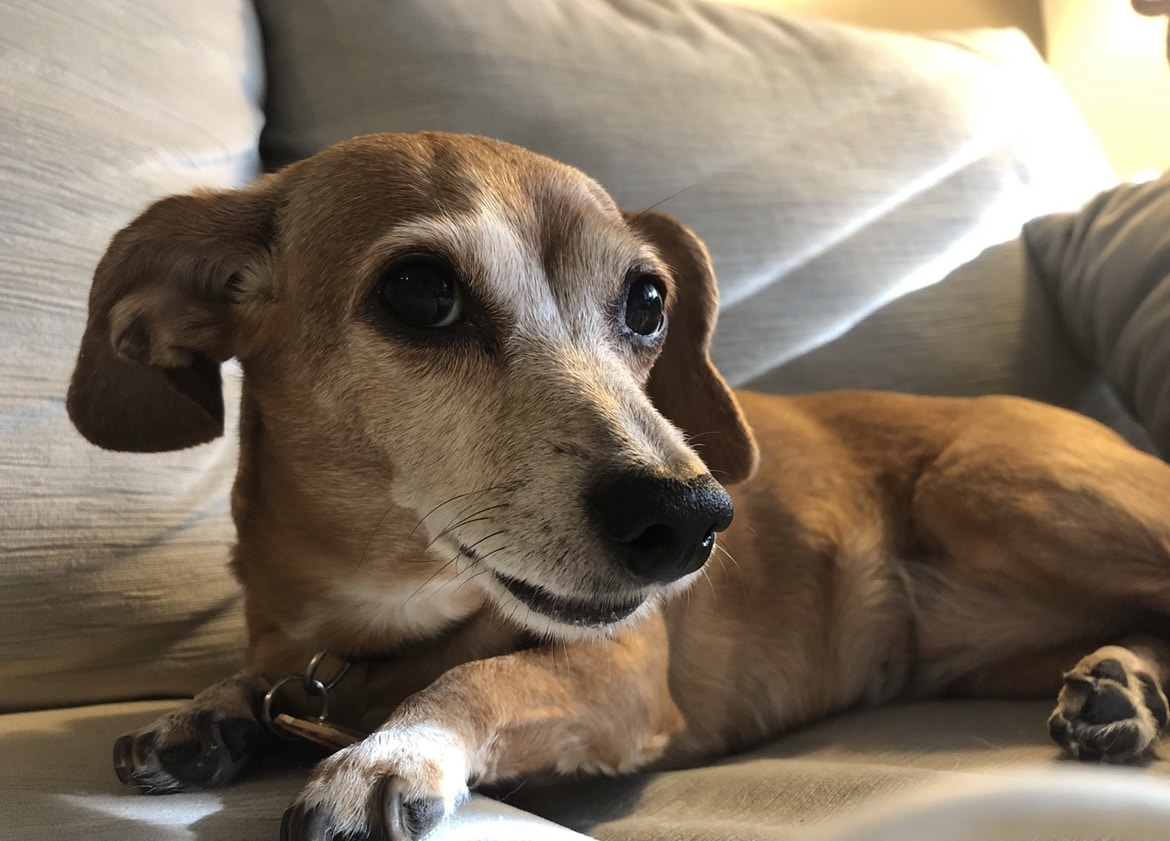 Claire's miniature chiweenie, Lucca.
Best advice you ever received:
Just start. I've received this advice in many different contexts, and it always proves to be useful; if you want to do something, learn something, be something, and you don't know how, just start. You can figure things out and fix things along the way, but you'll never get there if you don't just start.
If you were an animal, what would you be? Why?
A dog. They sleep all day, but they're still always everyone's favorite.
Best compliment you've ever received:
I've been told I have the patience of a saint and I think that can really go a long way these days. I think having patience requires having a lot of empathy and that's something everyone could use more of.
The weirdest job you've ever had:
I worked for a summer camp called Camp Invention where the kids were supposed to learn about engineering and innovation by taking apart electronics and building their own new 'inventions'. Unfortunately, I was assigned to the youngest age group (5-6). My campers needed help tying shoes and ripping tape, so you can imagine that 20 kids expected to disassemble VHS players and boombox radios for a week didn't really go as planned…
First concert:
A*Teens when I was 7 years old…They were an ABBA cover band featured on Disney Channel at the time. A much cooler answer to this is my second concert, The Who and The Pretenders when I was 12.
What TV show are you obsessed with right now?
I'm really into documentaries or reality TV. Lego Masters is one of my favorites right now, but I'm also a sucker for bad reality shows like the Bachelor and Below Deck.
Do you have a hidden talent or hobbies?
I am surprisingly good at scratchboard art. Scratchboard art is basically like drawing in reverse. Usually, when you draw you are starting with a blank white canvas, and you add in the midtones and dark areas with shading to make an image. With scratchboard, you start with a black canvas and erase out the light areas and highlights to create your image.
I wouldn't call it a hobby exactly, but I do collect vintage vinyl records. I got started when I inherited my dad's collection, and I've been slowly growing my library ever since!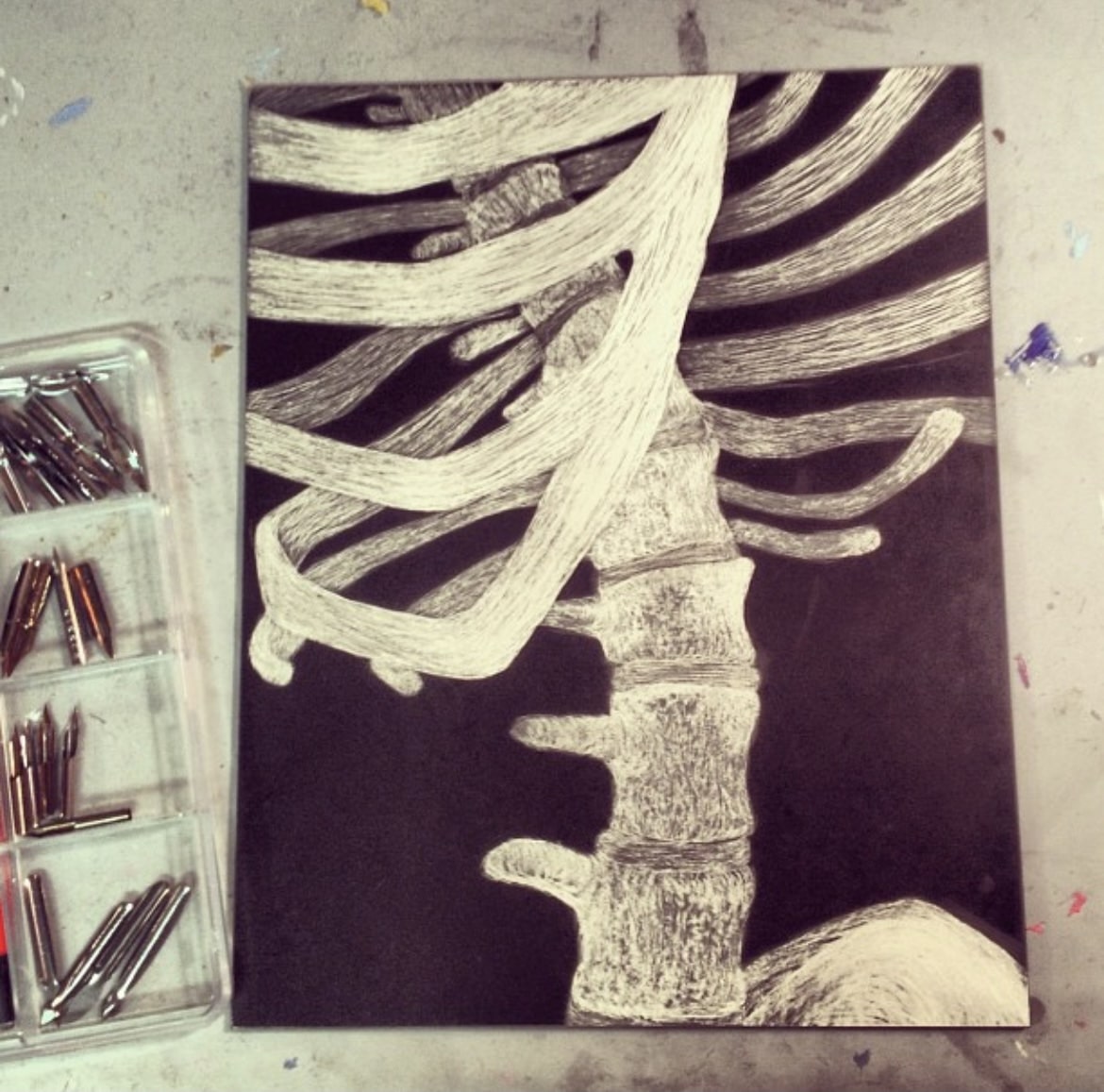 An example of Claire's scratchboard art.
Anything else you'd like to add?
Uhhh..rapid fire facts: I love the beach, The Beatles, macaroni and cheese, Halloween, scary movies, the color purple, and unicorns.
Audrey Larsen joins SAVI as Inside Sales Coordinator SAVI is excited to announce the addition of industry veteran, Audrey Larsen, to our sales department as Inside Sales Coordinator. Audrey has 17 and a half years of experience under her belt in the Pro-AV industry....
read more