Last week SAVI Controls was honored to host a private demo for 35 members of the foreign press at Topgolf Las Vegas. The timing just so happened to coincide with CES (Consumer Electronics Show). The group was treated to an exclusive demo led by Derek Wilson, President of DIEM Digital, one of SAVI Controls' premier Dealers. Byron Baird, VP of Sales at SAVI, also participated. The dynamic duo showcased the features and benefits of SAVI Canvas on the Topgolf teeline. The demo was followed by a brief Q&A session moderated by LG Business Solutions Technical Product Manager, Peter Kim. The Korea Herald published a feature article: "LG Digital Signage Displays Spruce Up Topgolf in US", which showcases how SAVI Controls and DIEM Digital are helping LG "transition Topgolf venues around the world from simple TVs to immersive commercial displays." This initiative will create "a comprehensive cultural venue for sports and entertainment by adopting up-to-date display and software technologies that would offer customers whole, new immersive experiences."
SAVI Canvas paired with LG webOS displays allows end-users like Topgolf to deliver content, intuitive control, and display management all with a single network cable. Alternative solutions require a box behind each display. SAVI is designed to provide a consistent user experience from any modern web browser. Tiling functionality enables varied layouts and sources shown on LG webOS displays installed in both portrait and landscape orientations. Dynamically switching between layouts is lightning fast with the layout sidebar, for individual displays, multiple displays, and video walls.
SAVI Server Pro featuring SAVI Canvas has been globally implemented at restaurants, bars, hospitality destinations, and entertainment venues. The signature installation, Topgolf, features more than 50 locations in North America and Australia. Locations in Dubai, Mexico, and Glasgow are soon to come. SAVI Canvas is deployed on over 10,000 advanced digital signage displays from LG Electronics at Topgolf alone, giving the client the ability to enhance the entertainment experience for millions of guests.
SAVI Canvas truly does "Uncomplicate" AV installation and day-to-day system control.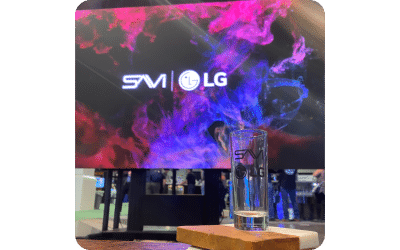 SAVI @ at Bar and Restaurant Expo highlights The SAVI team was back in action this past week at the 2022 Bar & Restaurant Expo in Las Vegas. Business owners, manufacturers, and lovers of food and drink flocked to the expo to experience the newest trends and...
read more