SAVI, a leading commercial AV distribution and control solutions provider, was named one of three AVIXA AV Experience Award: Best In-Person Experience finalists for the InfoComm Connected 2020 digital event, recognizing Topgolf's AV control and experience across its over 50 locations nationwide. SAVI partnered on the project, alongside LG, to provide system-wide AV control to hundreds of LG displays per location, creating a highly-immersive and customizable end-user experience. The Best In-Person Experience award recognizes companies and projects that strategically use AV to motivate their customers or end-users to get out into the real world to experience something they can't see, do, or feel anywhere else. 
Being recognized as a project finalist for the AVIXA AV Experience Award is really exciting for our entire team! Why? Because creating experiences– for integrators, their clients, the front-line teams, and the customers – is what SAVI is all about. It's our core. We are pioneering an evolution of automated commercial displays in entertainment and commercial venues, using some pretty radical technology. Our equipment has also been proven to work in more than 50 Topgolf venues revolutionizing over 10,000 commercial displays.
SAVI is also excited to be a part of a panel discussion at InfoComm Connected with our partners – LG, Topgolf, and Diem Digital – where we talk about the magic that helped us make it to the top three!
Even though we're pretty proud of what we've accomplished thus far — we are always looking for ways to do it better, faster, easier, smarter. Stay tuned for more on that!
Find out more about our partnership with Topgolf and LG Electronics. Find out more about the InfoComm Award.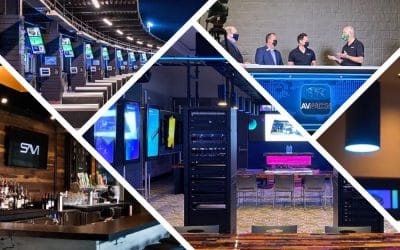 SAVI Controls 2021 Highlights As we entered 2021, the AV industry and the world itself, remained unsure of what post-pandemic life would look like. Although the world isn't back to its pre-pandemic state quite yet, SAVI still managed to conquer some amazing feats....
read more