Michael Burton Joins SAVI as Regional Sales Director for Southcentral and Southeastern U.S. Territories
With over 15 years of experience in the commercial AV industry, Burton has an outstanding track record in cultivating strong  relationships.
Dallas, TX – April 13, 2023 – SAVI, designer and manufacturer of commercial AV control and automation solutions, is pleased to announce the addition of Michael Burton as the Regional Sales Director for Southcentral and Southeastern U.S. territories. Burton now serves AV dealers and projects based in Alabama, Arkansas, Georgia, Florida, Kansas, Kentucky, Louisiana, Mississippi, Missouri, North Carolina, Oklahoma, South Carolina, Tennessee, and Texas.
Burton brings 15 years of AV experience to SAVI with a proven blend of skills in developing deep relationships, implementing fresh programs, and accelerating channel growth. As Regional Sales Director, Burton will deliver unparalleled value to SAVI's current and future dealer base by streamlining communication for technical system design, product information, and best practices. His expertise and passion for creating exceptional customer experiences will maximize sales opportunities and help strengthen SAVI's market penetration.
"Michael's diverse experience in leadership and sales positions makes him a valuable asset to our team. His commitment to excellence and integrity will undoubtedly enhance our sales efforts and contribute significantly to our continued success," said SAVI Vice President of Sales Byron Baird.
Burton's extensive pro-AV industry and music production background reinforce his invaluable addition to the SAVI team. He has spent time as both a project manager and as an account manager for national AVL design and integration firms including Ford Audio Video and Clark. He later transitioned to the manufacturer side of the industry as a Regional Sales Director for Mersive Technologies.
"I have always been enamored with technology that balances efficient engineering and artistic design. SAVI has created a unique technology ecosystem that embraces the importance of a beautiful UI along with smart innovative solutions. I am excited to share the vision of what we are doing at SAVI and where we're headed with SAVI 3," said Burton.
SAVI 3 is a thoughtfully designed, full-scale AV control, management, and automation solution that streamlines installation, simplifies programming, and reduces expenses across commercial projects of any size. With robust hardware supporting thousands of endpoints and simplified programming software that takes hours, not days, SAVI 3 requires virtually no end-user training and delivers world-class experiences in a fraction of the time and cost. To get SAVI for your business or to become a Certified SAVI 3 Dealer, please visit www.hellosavi.com or contact the sales team directly at sales@savicontrols.com.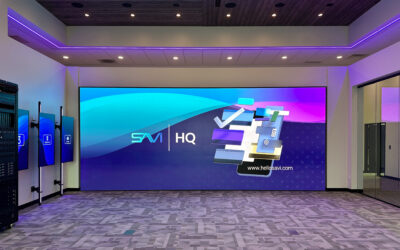 SAVI Opens State-of-the-Art Headquarters to Redefine Commercial AV Experiences Reinforcing its commitment to dealers and partners, SAVI unveils a new HQ with an immersive experience center showcasing their solutions like never before. Dallas, TX – November 13, 2023 –...
read more