Find a SAVI Dealer Near You
Search our universe of SAVI Certified Dealers
*Members of the Innovators Club are early adopters and best-in-class SAVI Certified Dealers who have demonstrated their ability to implement and support SAVI's technology at the highest level and in accordance with the highest industry standards.
**The authorized SAVI Controls Dealers listed herein the SAVI Dealer Locator have completed the SAVI Controls Dealer Certification requirements, including training in the SAVI Controls technology. Each of the dealers listed is an independent service provider, and SAVI Controls assumes no liability and specifically disclaims any warranty, expressed or implied, for the actions or services of such dealers. Please see the standard SAVI Controls product warranty for more information on the SAVI Controls customer warranty.
Let us find your SAVI Dealer.
From bars and stadiums to offices and schools, we can match you with the SAVI Certified Dealer that best suits your needs.
"SAVI is a game-changer for the digital experience at Topgolf"
– Andrew Macaulay, TopGolf Chief Technology Officer
SAVI's already sleek, approachable, and ultra-responsive UI now comes packed with even more innovative features and tools, delivering lighting fast functionality, simplified automation, and incredible AV experiences at the fraction of the time and cost. The best part? SAVI 3 requires virtually no employee training!
Dealer Spotlight
Entertainment Systems, Inc.
As a commercial AV and IT integrator, Entertainment Systems, Inc., or ESI, primarily serves the bar and restaurant industry, offering a suite of services, from AV system design and installation to service and support. "We focus on the true needs of the customers and building long-term relationships rather than just trying to make a sale. We strive to build that trusting and supportive partnership," said ESI President, Mark Wells.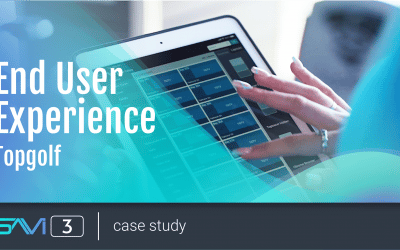 SAVI end user experience at Topgolf Intro While case studies usually focus on the initial integration experience and the challenges a business faced prior to choosing SAVI, today we focus solely on the end-user experience. We spoke to everyday end-users and...
read more