Commercial AV Tech Trends for 2021
With some of the brightest minds in commercial AV controls on our roster – we feel like we do a pretty good job keeping our finger on the pulse of our AV and automation industry and the commercial AV tech trends. From our dev team to our project and product designers, every single one of our team members aims to stay at the top of their game so we are able to continue to deliver the best of the best – AV products, software, commercial AV tech training, and support.
We've mused about silver linings of 2020 and dealt with the challenges going into 2021 that faced not only our AV and automation industry but the entire world. Everyone has had to pivot, adapt, and evolve, and the tech world has definitely been forced to follow suit. Below are a couple of tech trends you can be sure will be on the rise in 2021:
BYOD – No more remotes. No more losing remotes. Germ-free. Safer for end-users. SAVI 3 is your go-to web-based platform for simple commercial AV control and automation. Quick, easy channel and content changes in just a few taps using your own phone, tablet or laptop equipped with any modern web browser.
Gesture Control – While gesture control is nothing new in the world of gaming, you can be sure it will become more prevalent in many other walks of life. Back in August of 2020, during SAVI.Connect, LG officially announced an emerging feature of their webOS displays – gesture control. Change the channel with a flick of your risk. Forget BYOD and think BY (Bring Yourself). With the help of our very own Favorite Things Guy, Vinnie Anastasi, LG showcased a quick demo you can watch right this way.
VR and AR – Another thing the AV world is borrowing from the gamers. Commercial businesses, especially attraction-based businesses like museums, will be turning to AR or VR more to connect with their visitors.
Holographic Imaging – This 2021 commercial AV trend is in the same vein as VR and AR – just without the hassle of having to sanitize a headset. Holographic imaging has the potential to bring set and experiences to life and will certainly be implemented in attraction and educational settings.
We certainly have a lot to look forward to and can't wait to see our industry evolve!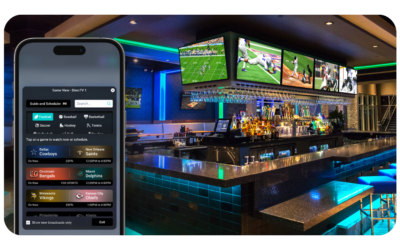 Latest software release is packed with new dealer and customer features to dramatically simplify programming and end-user management of commercial AV systems.  Dallas, TX – February 22, 2023 –SAVI Controls, designer and manufacturer of commercial AV control,...
read more